PRICES AND RESERVATIONS
Whether it's business or pleasure,
you are welcome at our horse hotel.
We look forward to meeting you!
---
We are open 24 hours but reservations are appreciated.
Please contact us by email or phone to let us know when to expect your arrival.


Our fee is $25.00 per horse per night.


The trailer/R.V. hook-up is $25.00 per night.
The fee is reduced to $20.00 if you are keeping a horse with us also.


Please bring current coggins and heath certificates with all horses.

---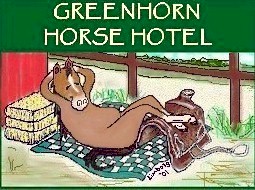 I-25 and Exit 77
(Exit # 77, Abbey Road/Hatchet Ranch Road)
Pueblo, CO 81004
Phone: (719) 924-0341

Email us for more information:
---

Copyright © 2004, Greenhorn Horse Hotel. All rights reserved.
Designed by Kathy Limborg

Last revised: Aug 14, 2019