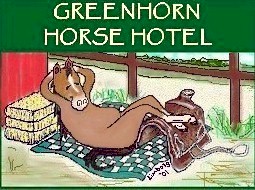 Prices & Reservations
---
We are open 24 hours but reservations are appreciated. Please contact us by email or phone to let us know when to expect your arrival.
Our fee is $20.00 per stall per night. We do offer discounts for multiple guests or extended stays.
The trailer/R.V. hook-up is $20.00 per night. The fee is reduced to $15.00 if you are keeping a horse with us also.
Please bring current coggins and heath certificates with all horses.

Phone: (719) 924-0341

Email us for more information:
---
Copyright 2004, Greenhorn Horse Hotel. All rights reserved.
Designed by TwinXpressions

Last revised: July 11, 2015