AMENITIES
Whether it's business or pleasure,
you are welcome at our horse hotel.
We look forward to meeting you!
---
We can accomodate for a day, a week or longer.



Our barn has fourteen 12' x 12' guest stalls, most with runs attached.

We have two 12 x 12 stud stalls..

We have four secure 12' x 42' pipe pens.

We have eight 12 x 20 corrals/pens.

There is a lighted 40 foot round pen and a lighted 50 x 100 foot arena.



We are open 24 hours a day 7 days a week for stabling needs.


Leave your horses with us and enjoy the non-horsy attractions of southern Colorado.


Hook up your trailer or R.V. right next to your horses, we have twelve 30 AMP and two 50 AMP hookups available. The closest motel is also only four miles south on the Interstate


We are conveniently located on the service road of Interstate 25. Because of our location we can accommodate any size rig from four wheels to eighteen.


Ferrier and Vet services are available to the facility.

---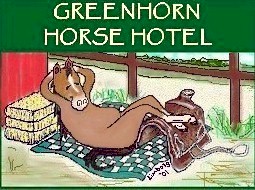 I-25 and Exit 77
(Exit # 77, Abbey Road/Hatchet Ranch Road)
Pueblo, CO 81004
Phone: (719) 924-0341

Email us for more information:
---

Copyright © 2004, Greenhorn Horse Hotel. All rights reserved.
Designed by Kathy Limborg

Last revised: Aug 14, 2019